Ruger Announces 50th Anniversary Bearcat® Revolver
Sturm, Ruger & Company, Inc. (NYSE: RGR), is proud to announce the 50th Anniversary Ruger® Bearcat® revolver, commemorating the small frame, single-action revolver William B. Ruger, Sr. once described as "a mechanical jewel."

Bill Ruger's original Single Six® revolutionized the shooting world when it was introduced in 1953. A Colt-type single-action revolver with an all-coil spring mechanism, frame mounted firing pin, and one-piece aircraft quality aluminum alloy grip frame, it started a resurgence of the classic single-action revolver that continues to this day.

Never one content to rest on his laurels, by 1958 Ruger was again contemplating a new .22 caliber single-action. This time, the revolver was to be of the smaller, no-frills, "kit gun" type, at home in a backpack, tackle box, or in a holster on the trail. His desire for a smaller and less complex single-action revolver led him, as it often did, back to his personal gun collection. There were features about early revolvers from both Colt and Remington that intrigued him, as well as features he knew could be improved upon.

"Simplify and add lightness" was his design strategy. The fixed-sight cylinder frame and grip frame were precision cast as a one-piece unit, instead of being held together by 5 screws. The trigger guard alone was made detachable. The revolver was scaled down to the dimensions of an old beloved Remington "Pocket Police" revolver that Bill had in his collection. The action itself was of the Remington style, having two pivot screws instead of the three found in Colts, and Remington-shaped micarta grip panels completed the heavily Remington-influenced design.

Yet the Ruger touches were all there. An all-coil spring mechanism, frame mounted firing pin, nylock screws that wouldn't work loose, the stylish rollmark of a bear and cat on the unfluted small .22 caliber cylinder…and even the name "Bearcat" derived once again from the inventor's affinity for antique Stutz motor cars…just as he had done with his "Blackhawk" and "Single Six," and would later apply to his "Speed Six."

Production began in 1958. After serial number 999 was produced, he began adding alphabet prefixes to their serial numbers, and these guns were known to collector's as "alphabet Bearcats" and bore serial numbers such as "C758," etc. Normal serial numbering resumed at serial number 1,000 in 1969.

Even though as a Ruger firearm it had a long life cycle, there were constant detail changes made to it. First, the plain plastic-impregnated wood grips were changed to walnut with a small bright metal medallion, around serial number 3,000. The brass-colored aluminum alloy trigger guard later was changed to a black-anodized finish, and later, to a blued steel trigger guard. The ejector rod housing went from steel to aluminum alloy in 1963, and near the end of production in 1971, the one-piece cylinder grip frame went the opposite way, from aluminum to blued-alloy steel construction. This version was called the "Super Bearcat."

Final commercial shipments of the Super Bearcat were made in late 1973 and very early 1974. But the little revolver had a loyal following among the audience for which Bill had originally intended it. They clamored for its return, and Bill Ruger listened.

Twenty years later, in 1993, an ad proclaimed, "The 'Cat is back, and the 'Cat is better than ever!" Ruger's New Bearcat indeed was changed. Modernized and updated to meet the requirements of the 1990's, it utilized a new version of Ruger's patented safety mechanism adoptable to single-action revolvers, known as the Ruger safety conversion kit.* The revolver now had an entirely new operating mechanism that contained a transfer bar. Only by pulling the trigger could the hammer ever propel the firing pin forward, thus preventing the possibility of firing from a drop or blow to the hammer if the user had failed to heed the basic safety precaution of keeping an empty chamber under the hammer.

Another significant change was making the cylinder slightly longer, to handle the powerful .22 Magnum cartridge. Rosewood grips and a blued steel trigger guard were standard, and for the first time an all-stainless steel model followed, adding to the revolver's desirability in wet or hot environments. A lower wide-spur hammer resembled that used on the Ruger New Model Super Blackhawk®, and a stainless steel trigger, both became standard on the New Bearcat.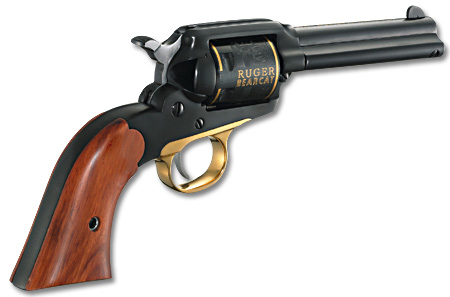 A 50th Year Special Edition
"We have strived to make our special limited edition 50th Anniversary New Bearcat a faithful and worthy tribute to its humble 1958 forebearer," said Ruger President Stephen L. Sanetti. "It has plain but handsome cocobolo wood grips, a gold colored trigger guard, and a special gold-filled rollmark "50th Anniversary BEARCAT – 2008". It also has a special serial number prefix, and will only be manufactured in 2008."

The blued, limited edition 50th Anniversary New Bearcat also features two gold bands and a gold-filled "RUGER BEARCAT" rollmark on the cylinder. The 4" barreled revolver, chambered for the popular and inexpensive .22 LR cartridge, will be shipped in a new gun rug bearing the Ruger logo, together with a detailed history booklet.

The special limited edition 50th Anniversary New Bearcat joins the ranks of the 50th Year Ruger .357 and .44 Commemorative Blackhawk® New Model single-action revolvers, issued in 2005 and 2006 respectively, as a fitting tribute to Bill Ruger's genius in designing and building firearms "to a standard that we would buy them even if they were made by a competitor."
IMPORTANT SAFETY NOTICE
*Owners of Bearcats below serial number 93-00000, and all pre-1973 "old model" (3-screw) Ruger Single Six, Blackhawk, and Super Blackhawk single-action revolvers, should contact Ruger for details about our important free safety conversions. You can also get details from our website.