Ruger Announces Four More New Products

Sturm, Ruger & Company, Inc. (NYSE: RGR), is proud to announce four new products that will appeal to shooters of all interests. The new Ruger® 22 Charger™ pistol brings a new look to small bore handgunning, while fans of the recently introduced 9mm SR9™ polymer frame pistol, can now have a "black on black" model. For those that look for big performance in small packages in rifles, Ruger® M77® Hawkeye® rifles chambered in the new .300 and .338 Ruger Compact Magnum cartridges will set new standards. Handgun hunters that want performance without the punishing recoil will be glad to see the Ruger® Super Redhawk® revolver, chambered in .480 Ruger, is back in a new configuration.

The Ruger® 22 Charger™ Pistol
The Ruger 22 Charger™ Pistol delivers the fun, versatility and reliability of the time tested Ruger 10/22® in a handgun. The 22 Charger features a 10-inch precision-rifled barrel mounted in an ergonomically designed, warp-proof, laminated stock. The adjustable bipod that ships with every 22 Charger pistol provides added control and stability on the range or in the field. A new extended magazine release allows easy removal of the legendary Ruger 10-shot rotary magazine.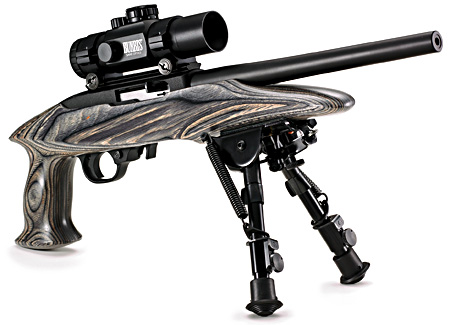 Whether you prefer a high magnification scope for long-range varmint shooting, or a red dot sight for quick and sure target acquisition, a combination Weaver®-style and "tip-off" sight mount allows your choice of optics. Either way, it is a great new pistol for long-range target shooting.

The Ruger 22 Charger™ pistol has an overall length of 19-1/4 inches and weighs 3-1/2 pounds, without the supplied bipod. The matte black finish compliments the black laminate stock and completes the weather-resistant package. It comes with a gun rug bearing the Ruger logo.

Black Slide Ruger SR9™ Pistol
The recently launched Ruger SR9™ pistol, the first striker-fired pistol from Ruger, is now available with a blackened stainless slide. The multi-step blackening process improves both the durability and corrosion resistance of the stainless steel slide by creating a surface hardness of 68Rc. The extra hard finish also reduces scratching and holster wear.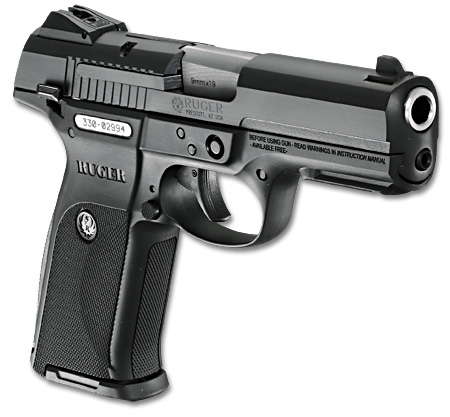 The 9mm Ruger SR9™ pistol features 17 + 1 capacity with a slim grip and a narrow slide that makes it the most comfortable shooting striker-fired pistol available today. The SR9 appeals to both left and right-handed shooters as it features an ambidextrous frame-mounted manual safety and magazine latch, both located where 1911 users expect them to be.

The structurally rigid, recoil-reducing, glass-filled nylon frame features a unique reversible backstrap that allows owners to quickly customize the size and feel of the grip, without having to carry separate inserts or use special tools. The slim, ergonomic grip features a 17-degree grip angle and three 22 lpi checkered panels that provide a sure grip without being abrasive. The rear sight, part of the low-profile, high-visibility, three-dot sight system, is click adjustable for elevation. Both front and rear sights are drift adjustable for windage to put shooters on target with their choice of ammunition.

The Picatinny rail accepts firearm-mounted lights for target identification in all light conditions, or an easy-to-use laser. The Ruger SR9 pistol also offers an internal trigger bar interlock and striker blocker, trigger safety, magazine disconnect, and a visual and tactile loaded chamber indicator.

M77® Ruger Compact Magnums
The Ruger Compact Magnum cartridges, developed in conjunction with Hornady Manufacturing Co., are extreme cartridges for extreme hunting. Based on the beltless .375 Ruger, the .300 and .338 RCMs are engineered to offer .300 and .338 Win. Magnum performance in a more compact package. With their short actions and 20" barrels, the M77 Ruger Compact Magnums are today's "mountain rifles and brush guns."


The new cartridges are chambered in the compact action Ruger M77 Hawkeye rifles with features that include the smooth and crisp Ruger LC6™ trigger for improved out-of-the-box trigger pull, and a red rubber recoil pad that provides more effective recoil reduction. Other features of the Ruger M77 Hawkeye rifles appreciated by knowledgeable shooters are the Mauser-type controlled feeding and powerful claw extractor, 3-position safety, hammer forged steel barrels and free Ruger patented scope rings. The design of the patented steel floorplate, which bears the distinctive Ruger logo, provides easy unloading and eliminates accidental "dumping" of ammunition.

Two compact-action models of the Ruger M77 Hawkeye rifles chambered in the new Ruger Compact Magnums are available. The matte blued version features the M77 Hawkeye's slimmer walnut stock with wrap-around cut checkering on the forearm and more rounded contours on the bottom of the stock and top of the pistol grips. The matte stainless version features a synthetic stock with a new recoil pad.

The new cartridges designed by Hornady Manufacturing provide unmatched ballistic performance in compact rifles, less felt recoil, longer barrel life, and superior performance at all temperatures. The .300 RCM is available in 150, 165 and 180-grain SST offerings. Each .300 RCM load exceeds comparative .300 Win. Magnum loads from a 20" barrel. Muzzle velocities for the .300 RCM are 3,170 fps, 3,030 fps, and 2,900 fps, respectively - from a 20" factory barrel. The .338 RCM is available in the newly developed 200 gr SST, and 225 gr SST offerings. Velocities for the .338 RCMs are 2,850 fps and 2,710 fps respectively, easily out performing the .338 Win. Magnum at equal barrel length.

Ruger® Super Redhawk® in .480 Ruger
The Ruger Super Redhawk revolver chambered in .480 Ruger, specifically designed with the big game sportsman in mind, is back. Production had been suspended early in 2007 to address a fired case extraction issue. After a complete analysis, it was determined that to provide easy and sure extraction, all .480 Ruger Super Redhawk Revolvers, including the easy-to carry Alaskan, will now feature 5-shot cylinders. Beginning in 2008, they will also feature a Hogue® Monogrip® for added comfort. The Target Grey® All-Weather® version adds a low glare matte finish preferred by hunters.

The strong extended frame of the Ruger Super Redhawk family, long known for their rugged reliability, utilizes the Ruger patented Integral Scope Mounting System. Integral scope cuts on the frame provide this handgun with a solid scope mounting surface. Free scope rings, an $80.00 value, are provided with every Ruger Super Redhawk Revolver except the short barreled Alaskan versions, offer the shooter and hunter the ability to easily mount their favorite scope.

The .480 Ruger cartridge offers handgun hunting performance without the heavy recoil experienced by other big game calibers. This cartridge offers power without excessively heavy recoil using Hornady's .475" diameter, 325 grain XTP Magnum bullet. The .480 Ruger cartridge can produce a muzzle velocity of 1350 fps - nearly one-third more muzzle energy than the standard .44 Magnum cartridge, with substantially less recoil than the other big bore hunting handgun cartridges. This exciting cartridge developed by Hornady can be said to effectively "split the difference" between the powerful .44 Magnum and other super-powerful, heavier recoiling hunting cartridges.