Ruger Reintroduces the LC380 Pistol to the California Market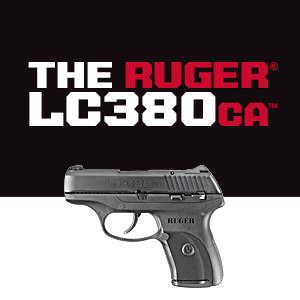 Sturm, Ruger & Company, Inc. (NYSE: RGR) is proud to announce the reintroduction of the Ruger® LC380® pistol to California. The LC380 was originally introduced nationwide in 2013 as a low-recoiling and easy-to-rack variant of the Ruger LC9® pistol. In 2014, Ruger made some minor changes to the LC380 production processes that would have required the pistol to meet California's controversial microstamping law. The LC380CA™ California compliant model reflects the unmodified pistol as originally approved by California in 2013.

The Ruger LC380CA is a lightweight, compact pistol perfect for personal protection. The LC380CA holds 7+1 rounds of modern, effective .380 Auto ammunition in a slim, lightweight pistol. The pistol uses the same holsters and accessories as the rugged and reliable LC9 and LC9s®. The LC380CA also features a blued, through-hardened, alloy steel slide; a high-performance, glass-filled nylon grip frame with aggressive texturing; a finger grip extension magazine floorplate to improve handling; and a rapid acquisition, windage adjustable, 3-Dot sight system.

The compact, 17.2 oz. Ruger LC380CA has a 3.1" barrel, an overall length of 6", a height of 4.5" and a slim 0.9" width. The compact frame and short trigger reach are designed to accommodate a wide range of hand sizes. The LC380CA offers modern safety features such as a tactile loaded chamber indicator, magazine disconnect, and a manual external safety. The LC380CA ships with one, 7-round magazine, a soft case and a cable locking device.

As a special "bonus" with this reintroduction, the LC380CA will ship for a limited time with a LaserMax® CenterFire® frame mounted red laser.

Later this year, Ruger plans to expand its offerings of Genuine Ruger Factory Parts & Accessories to include a 9mm caliber conversion kit for the LC380. The kit will allow owners of a Ruger LC380 or LC380CA to convert their pistol to safely and reliably fire 9mm Luger ammunition, providing added flexibility to shoot either lighter recoiling .380 Auto or more powerful 9mm Luger in the same handgun.

For more information on the Ruger LC380CA or to learn more about the extensive line of award-winning Ruger firearms, visit Ruger.com or Facebook.com/Ruger. To find Genuine Ruger Factory Parts & Accessories for the LC380CA or other Ruger firearms, visit ShopRuger.com.