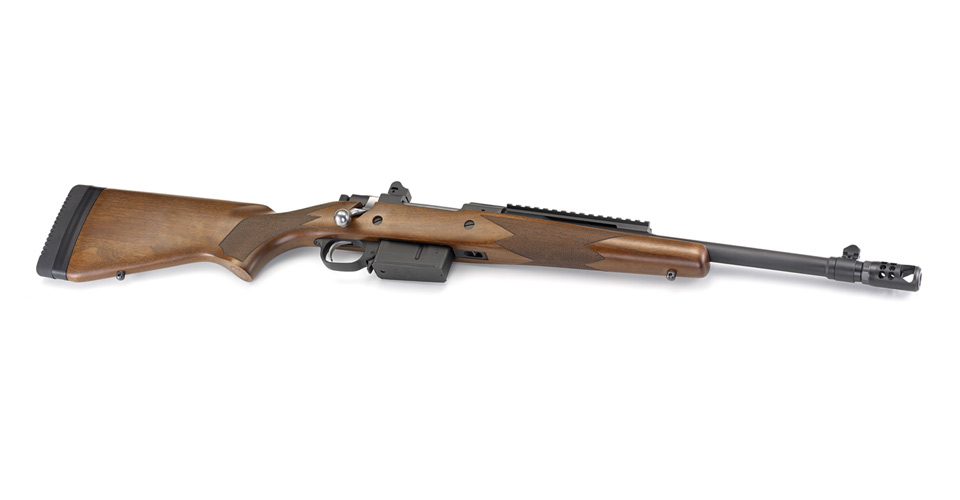 Ruger Gunsite Scout Rifle Available in .450 Bushmaster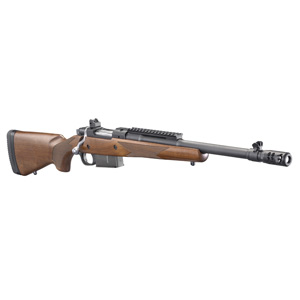 Sturm, Ruger & Company, Inc. (NYSE-RGR) is proud to announce that the Ruger® Gunsite Scout Rifle is now chambered in .450 Bushmaster. A natural extension of the Gunsite Scout Rifle line, the .450 Bushmaster model offers big-bore, high-energy performance in a compact and handy rifle. Weighing 6.6 pounds, this version of the Gunsite Scout Rifle features a 16.10", 11/16"-24 threaded barrel with a 1:16 twist rate, offers controlled round feed and ships with a 4-round detachable box magazine.

The Ruger Gunsite Scout Rifle in .450 Bushmaster features a cold hammer-forged, medium-contour, alloy steel barrel with a matte black oxide finish. The threaded barrel is fitted with a Ruger Precision Rifle® Hybrid Muzzle Brake, which can be removed in order to attach other threaded barrel accessories such as the included thread protector. The rifle's trigger guard and magazine well are formed of glass-reinforced nylon. The magazine release is a push-forward Mini-14® paddle located just ahead of the trigger guard.

The protected, non-glare, post front sight and receiver-mounted, adjustable, ghost ring rear sight provide for out-of-the-box usability. The forward-mounted Picatinny rail allows shooters to customize the rifle by mounting a variety of optics for "both eyes open" fast target acquisition. The rifle also features integral scope mounts and comes with Ruger® scope rings for conventional scope mounting.

The American Walnut stock, with "Gunsite Scout Rifle" engraved on the grip cap, is equipped with sling swivel studs and features a checkered grip and forearm. A soft rubber recoil pad with three, 1/2" spacers allows the length of pull to be adjusted and properly sized for different shooters or to give the shooter a proper fit with outerwear of varying thickness.

For more information on the Gunsite Scout Rifle or to learn more about the extensive line of award-winning Ruger firearms, visit Ruger.com or Facebook.com/Ruger. To find accessories for the Gunsite Scout Rifle and other Ruger firearms, visit ShopRuger.com or your local independent retailer of Ruger firearms.