Ruger Introduces An Integrally Suppressed Barrel for the 10/22 Takedown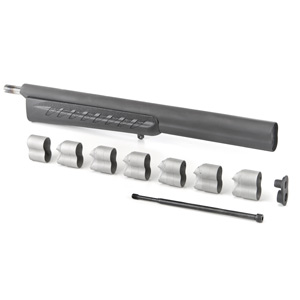 Sturm, Ruger & Company, Inc. (NYSE-RGR) proudly introduces the Silent-SR® ISB for the 10/22 Takedown® platform. The ISB, or Integrally Suppressed Barrel, is an exciting addition to the Ruger® Silent-SR family that delivers quiet and accurate performance in a compact and truly user-serviceable package.

Known for its unrelenting reliability, durability and accuracy, the 10/22 Takedown rifle is the ideal platform for an integral suppressor. The Silent-SR ISB quickly and easily assembles to any Ruger 10/22 Takedown or 22 Charger™ Takedown, and features an induction-hardened breech with cold hammer-forged barrel that provide easy takedown and accurate return-to-zero - the same elements that have made the 10/22 Takedown an instant classic worthy of its heritage.

Reducing sound pressure levels of .22 LR to an average of 113.2 dB with standard velocity ammunition, a 10/22 Takedown rifle equipped with the Silent-SR ISB is as quiet as a bolt-action rifle with a thread-on silencer. Its compact, 16.12" barrel length makes the Silent-SR ISB easy to handle, and the relatively long barrel of the Silent-SR ISB (compared to other integral suppressors) means the bullet generates energy near that of a 16" gun for consistent, accurate and effective performance on target. The pushed-cone baffle geometry has been stretched to utilize the volume under the barrel maximizing suppression of the gunshot without disturbing the travel of the bullet.

Disassembly for cleaning is as simple as separating the barrel from your firearm and loosening the Silent-SR ISB's single assembly screw using the included 5/32" hex key tool. Once loose, pull the screw to remove all six 17-4 stainless steel baffles, spacer and front cap free of the sleeve for cleaning. The sealed baffles keep the fouling away from the serialized sleeve, yet easily come apart even after thousands of rounds. Finished with Cerakote, the Silent-SR ISB is engineered and built for a lifetime of hard use without clogged ports, seized components or loss of suppression that often plague other integrally suppressed rimfire barrels.

Suppressed firearms help to preserve our hearing, make verbal communication on the range easier and make shooting more fun. Paired with the Ruger 10/22 Takedown, the Silent-SR ISB makes the perfect training, plinking and small-game hunting platform.

For more information on the Silent-SR ISB or to learn more about the extensive line of award-winning Ruger firearms, visit Ruger.com or Facebook.com/Ruger. To find accessories for Ruger firearms, visit ShopRuger.com or your local independent retailer of Ruger firearms.