Ruger Claims Multiple Wins at the WBRP Independence Outlaw Match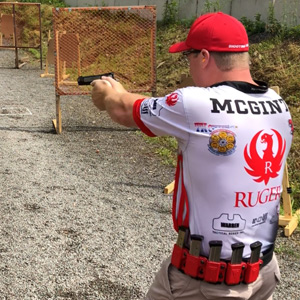 Sturm, Ruger & Company, Inc. (NYSE-RGR) is proud to announce that Team Ruger took two divisional wins at the 2018 WBRP Independence Outlaw Match held at the Wilkes-Barre Rifle & Pistol Club in Hunlock's Creek, PA.

Team member James McGinty claimed the top spot in the 9mm division, as well as first overall, shooting the 9mm Luger SR1911® with a winning time of 173.91.

"My SR1911 ran flawlessly," said McGinty. "This was the first Outlaw Match I have shot in a long time and it was fun taking on tight and tricky shots combined with very challenging swingers and moving targets."

Shooting his SR1911 chambered in .45 Auto, team member Dave Olhasso walked away with a first place P-45 divisional finish and fourth place overall. Olhasso had a winning time of 238.49.

"This was a very fun and challenging match," commented Olhasso. "Jerry and the team in Wilkes-Barre did a great job putting on this event. Uncoupled from the typical rules, they were able to put together some very different and integrated stages."

To learn more about the extensive line of award-winning Ruger firearms, visit Ruger.com or Facebook.com/Ruger. To find accessories for Ruger firearms, visit ShopRuger.com or your local independent retailer of Ruger firearms.