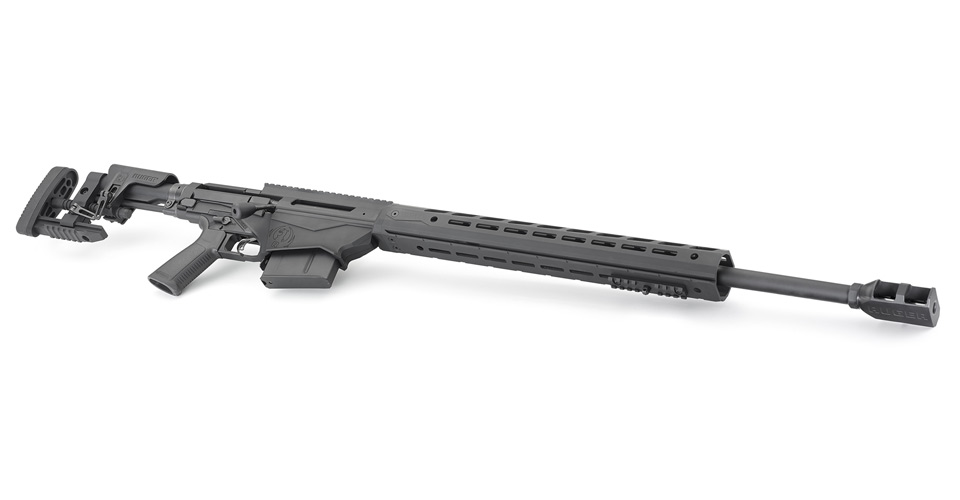 Ruger Announces Magnum Caliber Offerings for Ruger Precision Rifle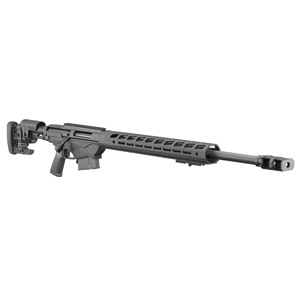 Sturm, Ruger & Company, Inc. (NYSE-RGR) proudly announces that the popular Ruger Precision® Rifle is now chambered in .338 Lapua Magnum and .300 Winchester Magnum. These new magnum caliber models pair exceptional long-range accuracy potential with tremendous down-range energy, broadening the appeal of an already very popular rifle.

These rifles feature a heavy-contour barrel (0.875" at the muzzle) as well as a Ruger Precision® Rifle Magnum Muzzle Brake with tunable compensator to effectively reduce recoil and muzzle jump. They also feature a hard-coat anodized, 18" free-float handguard configured with Magpul® M-LOK® accessory attachment slots on all four sides for improved scope clearance and easy mounting of M-LOK-compatible rails and accessories. Integral QD sling attachment points eliminate the need for additional adaptors and a flat bottom 1.50" dovetail is compatible with RRS S.O.A.R. and similar QD systems.

Like all Ruger Precision Rifles, these new models feature a highly accurate, free-floated barrel that is cold hammer-forged from 4140 chrome-moly steel with 5R rifling for minimum bullet upset. Minimum bore and groove dimensions (air-gauged for process control) and a centralized chamber deliver outstanding accuracy, longevity and ease of cleaning.

The .338 Lapua Magnum model features a 1:9.375" twist rate while the .300 Winchester Magnum model features a 1:9" twist, both of which stabilize long-for-caliber projectiles. These rifles ship with two, 5-round AI-Style magazines.

The Ruger Precision Rifle is also equipped with an AR-style left-folding stock with adjustable comb height and length of pull, and ergonomic pistol grip. The magnum caliber models feature a 30 MOA Picatinny rail and the Ruger Marksman Adjustable™ trigger, which provides a user-adjustable pull weight range between 2.25 and 5 pounds.

The value of the Ruger Precision Rifle is unmatched. With top-tier accuracy, adjustable ergonomics and the rugged reliability for which Ruger is renowned, these new chambering options broaden the Ruger Precision Rifle's utility across a wide range of readily available ammunition.

For more information on the Ruger Precision Rifle or to learn more about the extensive line of award-winning Ruger firearms, visit Ruger.com or Facebook.com/Ruger. To find accessories for the Ruger Precision Rifle and other Ruger firearms, visit ShopRuger.com or your local independent retailer of Ruger firearms.