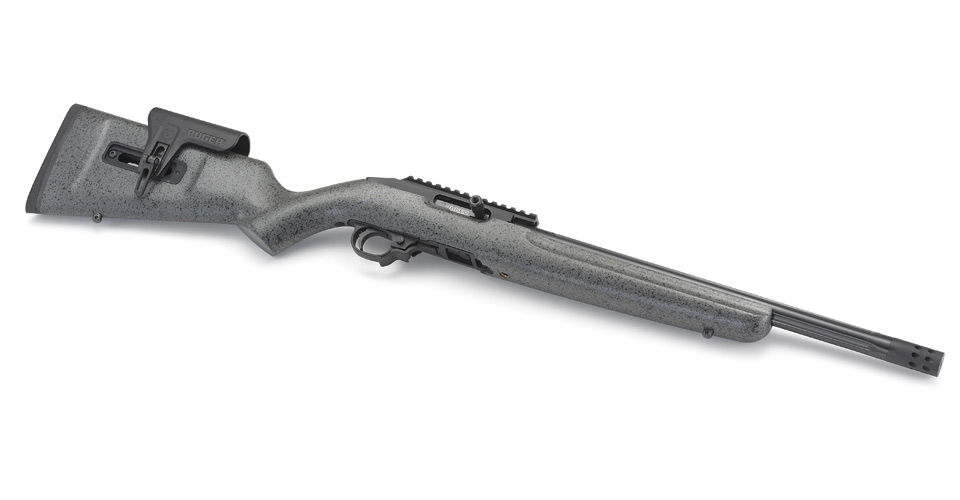 Ruger Introduces Custom Shop 10/22 Competition Rifle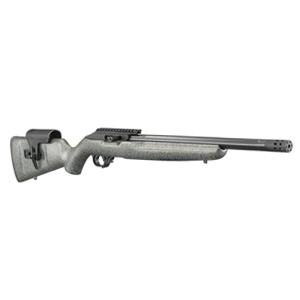 Sturm, Ruger & Company, Inc. (NYSE-RGR) is proud to introduce the Ruger® Custom Shop 10/22® Competition Rifle.

The 10/22 Competition Rifle features a hard-coat anodized, CNC-machined, heat treated and stress relieved 6061-T6511 aluminum receiver with an integral, optics-ready, 30 MOA picatinny rail. The custom receiver is paired with a 4140, heat treated and nitrided, match CNC-machined bolt to create a tight-fitting, smooth action that will enable the highest level of performance. The receiver incorporates a second bedding lug, ensuring it is securely bedded to the stock. This rifle also features an exclusive second barrel locator to provide a free-floating barrel for superior accuracy. The receiver incorporates a rear cleaning port, providing access to the barrel from the rear of the receiver for ease of cleaning.

The 16-1/8" bull barrel is fluted to reduce weight and dissipate heat and also is threaded with a 1/2"-28 pattern to accommodate the included muzzle brake or other barrel accessories. The barrel also features a proprietary, enhanced semi-auto chamber which has proven to increase accuracy and precision while not compromising reliable feeding and extraction.

The receiver is secured in a painted and textured laminated stock that provides a sure-feeling, slip-free grip. The stock also features a fully adjustable cheek rest, which can be repositioned horizontally and vertically to allow the customer to create a custom-adjusted feel that is stable, comfortable and repeatable.

"The 10/22 has been a mainstay in our lineup for over 50 years and has seen countless variations," said Chris Killoy, Ruger President and CEO. "Our skilled team of engineers took a ground-up approach to further enhancing our proven design and taking the already legendary performance and reliability of the 10/22 to a new level."

This feature-packed 10/22 comes equipped with: the popular Ruger BX-Trigger™ which provides a smooth take-up and crisp break; an oversized bolt handle for ease of charging; a match bolt release that allows the bolt to be released forward with a quick pull and release to the rear; and an extended, ambidextrous magazine release.

This rifle ships in a hard case, and includes a detachable 10-round rotary magazine, Ruger Custom Shop Certificate of Authenticity, challenge coin, cleaning cloth and decal.

For more information on the Ruger Custom Shop 10/22, visit Ruger.com/CustomShop. To find accessories for the 10/22 and other Ruger firearms, visit ShopRuger.com or your local independent retailer of Ruger firearms.