Ruger Wins 2018 Golden Bullseye Award in Two Categories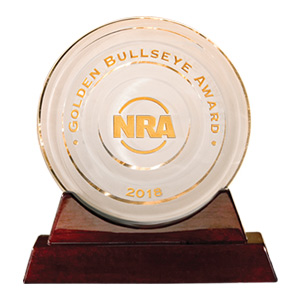 Sturm, Ruger & Company, Inc. (NYSE-RGR) is proud to announce that the Mark IV™ and Ruger American Pistol® each received a "Golden Bullseye Award" from the National Rifle Association's American Rifleman magazine. These pistols were named 2018 American Rifleman "Handgun of the Year" and "Women's Innovation Product of the Year," respectively.

The Golden Bullseye Awards recognize recently introduced products that are available to consumers prior to the selection. Products considered for recognition are tested by American Rifleman staff or regular contributors. The selection criteria explain that winning products should be "reliable in the field, meeting or exceeding the evaluator's expectations; innovative in design and function; readily perceived as a value to the purchaser; and styled in a manner befitting the shooting and hunting industry and, perhaps more importantly, its enthusiasts."

"We are humbled to receive not one, but two awards from American Rifleman magazine," said Ruger President & CEO, Chris Killoy. "A significant amount of engineering and design innovation went into the development of these two pistols, and we are pleased to know that the American Rifleman staff members are as fond of these revolutionary handguns as we are," he concluded.

The Mark IV is Ruger's latest development in the Mark Series line of pistols. Beginning with the Standard Pistol that launched the Company in 1949, this line of pistols has undergone a series of enhancements with the development of the Mark I, Mark II™ and then the Mark III™. The Mark IV maintains the same classic outward appearance of its predecessors, but incorporates a significant improvement customers love - a simple, one-button takedown for quick and easy field-stripping. A recessed button in the back of the frame allows the barrel-receiver assembly to tilt up and off of the grip frame without the use of tools. The bolt simply slides out of the receiver and the barrel can be properly cleaned from chamber-to-muzzle. Since the release of the Mark IV, the line has expanded to include 15 unique configurations.

Originally introduced in December 2015, the feature-rich Ruger American Pistol was designed with the latest U.S. Military standards in mind and was tested in the harshest environments to ensure the rugged reliability consumers have come to expect from Ruger. The Compact model made its debut one year later in 2016 with a 3.55" barrel, overall dimensions of 6.65" long, 4.48" high and a weight of 28.7 ounces with an empty magazine. The Ruger American Pistol Compact model shares all of the features and rugged reliability of the duty-size gun in a smaller, lighter, more concealable package.

To learn more about the extensive line of award-winning Ruger firearms, visit Ruger.com or Facebook.com/Ruger. To find accessories for Ruger firearms, visit ShopRuger.com or your local independent retailer of Ruger firearms.